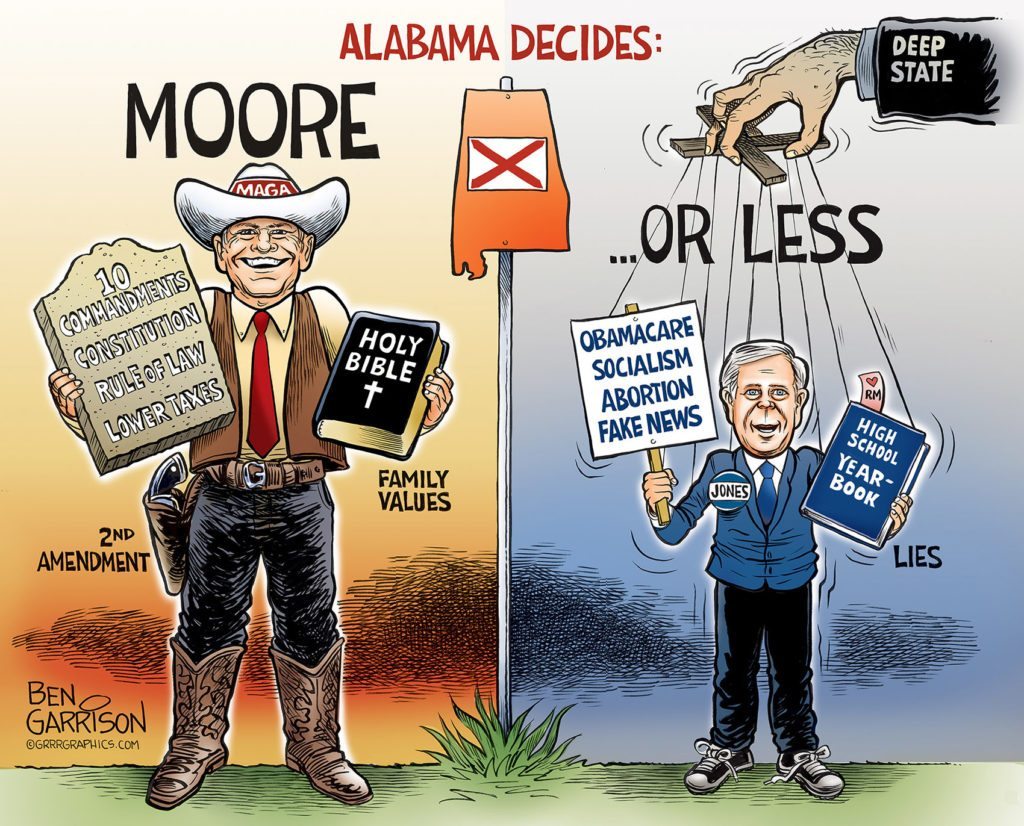 The corrupt Deep State media painted Donald Trump as a sexual predator, a friend of the KKK, or even a 'Nazi.' Some on the left were whipped into a frenzy and claimed the world as we knew it would come to an end if the 'orange monster' somehow got elected.
To prevent that disastrous occurrence, a parade of women were trotted out of the woodwork to accuse Trump of sexual assault. They were all liars. Their lies may have had some efficacy in the past, but fortunately in the age of the Internet, the truth can be found and Trump became president.
Apparently, the Deep State has no other playbook. They're now using the same lying, dirty tactics against Roy Moore. Moore wants to make America great again and does not mouth the usual politically correct platitudes. He's not part of the Deep State, so their operatives are doing their best to keep him out of the Senate.
I think they will fail again, but just in case, I drew another cartoon to support his election.
–Ben Garrison
MAGA Christmas Cards
$17.99
Ben Garrison MAGA Christmas cards, perfect for Trump supporting friends and family! Guaranteed to melt snowflakes everywhere.
Please click on magnifying glass to view image full screen
5 in stock
Description
We wish you a "Deplorable" Christmas and a very MAGA New Year
Celebrate this holiday season with Ben Garrison Cartoon Christmas Cards. Send your favorite Trump supporting friend or family member a unique and memorable Christmas card that will bring a smile to their faces.
Classic 5″ x 7″ card size
Printed on heavy matt stock
Envelopes
10 cards in each bundle
5 different cartoon designs to enjoy
Card blank inside for your own personal greeting
The war on Christmas is over
Pre-order now – limited quantities – MAGA
The post Alabama Decides, Moore or Less appeared first on Grrr Graphics.
Facebook Comments